Introducing

Paperless Solutions
With these solutions, your practice can automatically text or email dental patients with appointment reminders, new or expired electronic forms, and other important communications from their dental provider. With the ability to text or email customized forms for completion, patients can quickly and conveniently complete forms on the practice's website, or in the office via tablet or kiosk.
Allows your practice to send forms before a visit, collect consent digitally, and greatly reduce the burden of paper from your office.
Easily automate friendly reminders via text message, emails, and even traditional postcards for a personalized patient experience.
The easy solution for automated reputation management and growth.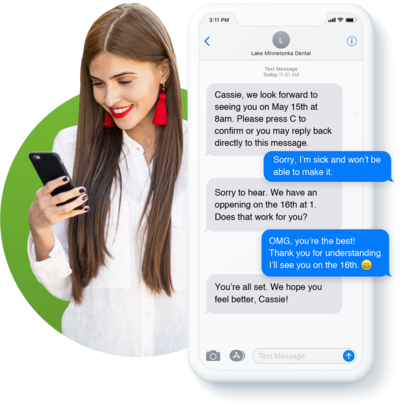 Access these solutions (and more) to power your practice today.
Vyne Dental currently helps more than 74,000 dental practices manage their revenue cycles, send encrypted communications, and position their practices to thrive. With our recent acquisition of Opera DDS, your dental practice can now create a unique integration between your revenue cycle and patient engagement workflows.
Easy paperless forms, patient reminders, & more for Dental Offices
Intake, management, and the transmittal of sensitive information is a necessity in your office. Add to it the need for consent forms for just about every procedure and you have a considerable burden on your hands.
OperaDDS is the easy, touch free solution. Effortlessly collect intake forms and write back to your practice management system for minimal data entry.
Works with most practice management systems. Writes back to Eaglesoft, Dentrix, Open Dental, and OrthoTrac.
Easily reduce no-shows and fill your schedule
Getting patients to show up via an automated reminder system is a necessity in today's busy world. We take recall a step further by automating the process and adding handy features like 2 way texting, voice reminders, postcards, emails, and more to keep your schedule full. If your patient replies that they can't make it, simply suggest another time and reschedule immediately.
Patient Reminders are the easy solution. Low cost, no contracts, massive results. Compatible with Eaglesoft, Dentrix, and Open Dental.
Take Control of Your Online Reputation
Your online reputation is more important than ever for your practice. Knowing where you stand is only a click away. Our fully automated, intelligent system pushes positive reviews to social media platforms while flagging issues and bringing them to your attention so your team can resolve them privately.
OperaDDS Reviews powered by Vyne Dental is the easy solution for automated reputation management and growth.
"I've been a user and fan of the OperaDDS app for many years now. Having a very busy practice, I was always on the lookout for a quality office communication system that could reduce some of the chaos and keep us running efficiently and professionally. It makes my workday so smooth!"
"The forms look great and are so easy to use! Our image is so important and you have created documents that reflect who we are. No more copying, scanning and shredding, the administrative team loves this! They also are very happy to save several trees in the process!"
Trusted by over 10,000 practices
Dr. Brandon Tiek
General Dentist

Deanne Recktenwald
Practice Administrator

ACCESS THESE SOLUTIONS AND MORE
Your practice efficiency -- elevated.
© 2021 Napa EA/MEDX LLC: All rights reserved. All third-party trademarks and tradenames (including logos and icons) referenced are and remain the property of their respective owners.
By continuing to use the site, you agree to our Privacy Policy.